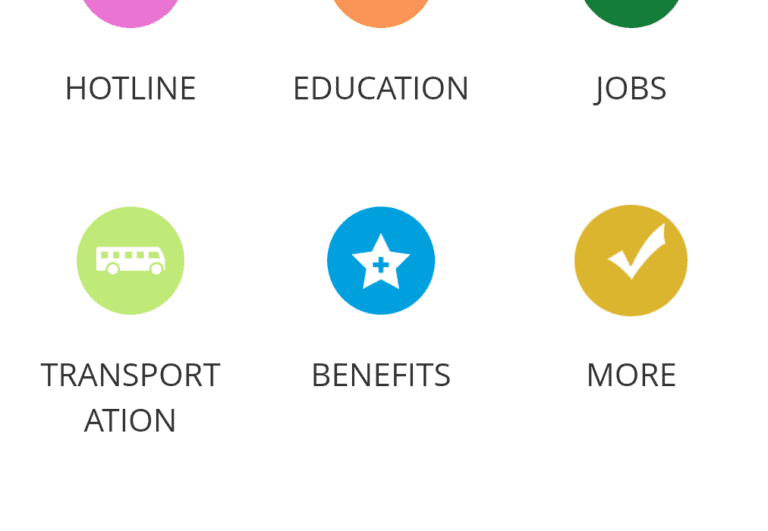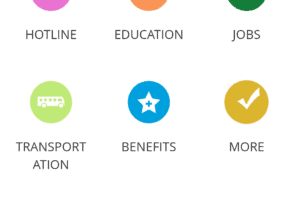 by Carla Buck, OCLA WIN Operations and Development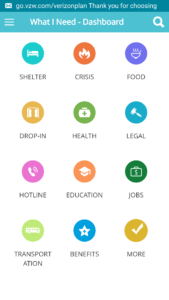 WIN has added a 12th category of free programs available to vulnerable youth- the MORE category! Located at the bottom right of the WIN dashboard, MORE enables youth to locate programs offering free showers, haircuts, laundry, wifi, classes and MORE! Like all WIN listings, these services are available to youth without a referral.
Why did we add MORE? When we launched WIN in November 2015, it offered 11 searchable categories of essential supportive resources available in LA County to vulnerable and/or homeless youth. In focus groups held in spring of 2016 at homeless youth drop-in centers, we learned youth also wanted the ability to search for other personal basic needs as well as classes and free wifi locations. We realized we needed another category…so we moved the Feedback icon off the dashboard (you can still find it in the Menu Section though!) and created the MORE category. We are still building the MORE database—please help us if you know of services or programs we should add here!
In addition to adding the MORE category, WIN has other new features and resources. For example, we have added Directions, a MapView of search results, broken out the Santa Clarita region on the map and added the ability to share search results via text messaging and Facebook Messenger.
DIRECTIONS – The fall 2015 WIN offered users who were connected to the internet, the ability to view a program location on a map. The latest version has added directions– showing users how they can travel (by driving, transit, biking or walking) from their current location to the agency they wish to visit.
MAP VIEW – Youth now have not 1 but 2 ways to view lists of resources. When we launched, a resource search returned of a list of programs ordered by distance from the user. Now the youth can also select a map view showing where programs listed are located.
SANTA CLARITA REGION –Santa Clarita residents pointed out to us that the San Fernando Valley is so big that it would be helpful to youth and other users if the region were broken down to make it easier to search for services. With their help, we separated Santa Clarita from San Fernando Valley on our map and search capabilities.
YOUTH ONLY SEARCH – The WIN search results list has always marked Youth-Only Service Providers with a Y icon. But because youth under 25 are often not comfortable around the older chronically homeless population, youth asked us to make it even easier to find youth-only providers. We now have a Youth Only search filter which allows an user to limit the search results to programs that serve youth ages 25 and younger.
SHARING INFORMATION – WIN has always allowed a user to email her search results to others. This allowed youth to share search information with other youth and enabled case managers to send information to the youth they served. But we soon learned that was not enough and recently added the ability to share search results via text messaging as well as through apps such as Facebook Messenger.
We welcome feedback and ideas on how we can improve WIN. Email us at [email protected] To download WIN or use our webversion on a computer, please visit our WIN page here. here.
Continue Reading