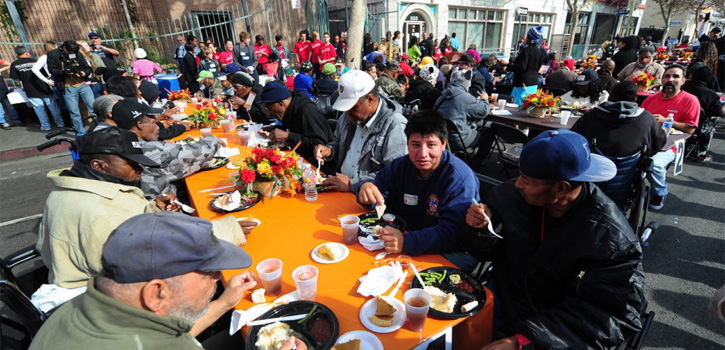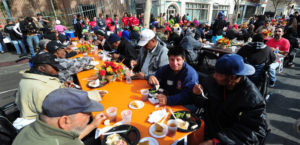 APRIL 24, 2018 / BY DANIEL FLAMING, PATRICK BURNS AND JANE CARLEN; LA Economic Roundtable
UNDERWRITER: THE CONRAD N. HILTON FOUNDATION
Information from 26 datasets with records of Los Angeles County's homeless residents was used for a first-of-its-kind meta-analysis that identifies interventions for reducing chronic homelessness. Read the report here.
Almost 600,000 Los Angeles County residents are in poverty and spend 90 percent or more of their income on housing. Out of this large, precariously housed population, some people have short episodes of homelessness, and a much smaller number remain stuck in homelessness.
Increasing monthly exit rates from homelessness by 10 percent is projected to reduce the number of people who go on to become chronically homeless by half.
Individuals who have the least access to jobs have the greatest risk of homelessness. This is borne out by the hugely disproportionate rate of homelessness among African American residents. African-American men in their 40s and 50s are found 16 times more often in the homeless population than in L.A.'s overall population.
This disproportionate burden of homelessness begins in childhood. The rate of homelessness for African-American children is 13 times greater than the rate for European-American children.
This inequity needs to be addressed head-on.
By far the most frequently given reason for homelessness is unemployment or lack of cash aid, and consequently lack of money. A frequent compounding factor is breakdown of social connections. This includes family conflict, breakup, violence, and death.
Finding a job is very important for homeless young adults, parents with children, and individuals who have been homeless for three months or less. However, efforts to participate in the formal labor force are largely in the form of job seeking rather than job holding. The number of individuals looking for a job is four times greater than the number with a job.
Jobs and other early interventions must be parallel efforts that augment rather than divert resources from housing chronically homeless individuals. Greatly increasing the supply of permanently affordable housing continues to be crucial.
We recommend using predictive analytic screening tools to identify newly homeless individuals who are at high risk of chronic homelessness. And we recommend ongoing linkage of county and homeless service provider records to support this screening process.
The Economic Roundtable is developing two screening tools for vulnerable populations. One is for employable adults, the other is for foster youth at risk of chronic homelessness.
This research was funded by the Conrad N. Hilton Foundation. Development of predictive analytic screening tools is being funded by the John Randolph Haynes and Dora Haynes Foundation.
To read Report click here.
Continue Reading
http://www.childrensdefense.org/library/PovertyReport/EndingChildPovertyNow.html
Search Terms: policy, children, poverty, poor, national, racial disparities, SNAP, subsidies, child tax credit
Summary: More than 14.7 million children in America were poor in 2013, with more than two-thirds in working families. A disproportionate number are Black and Latino. Poor children often lag behind their peers in many ways beyond income. This report shows how we can shrink overall child poverty by 60 percent, Black child poverty by 72 percent, rural child poverty by 68 percent, and improve the economic circumstances of 97 percent of poor children simply by investing more in programs that work like the EITC, SNAP, housing subsidies, subsidized jobs, the Child Tax Credit, child care subsidies and others.
Continue Reading
Children of the Recession: The impact of the economic crisis on child well-being in rich countries
http://www.unicef-irc.org/publications/733
Gonzalo Fanjul, UNICEF, Rick Boychuck
Search Terms: poverty, great recession, national, innocenti
Summary: As the data in this new edition of the Innocenti Report Card series show, in the past five years, rising numbers of children and their families have experienced difficulty in satisfying their most basic material and educational needs. Most importantly, the Great Recession is about to trap a generation of educated and capable youth in a limbo of unmet expectations and lasting vulnerability. League Tables, the flagship tool of the Innocenti Report Card series, rank the change, since the onset of the crisis, in the poverty levels of children and the impact of the recession on youth. The Report also explores the effects of the recession on youth seeking to enter or remain in the labor force in the middle of a recession.
Continue Reading