LA Public Legal Service Fair is a WIN for OCLA!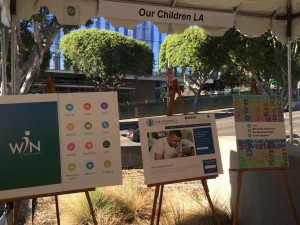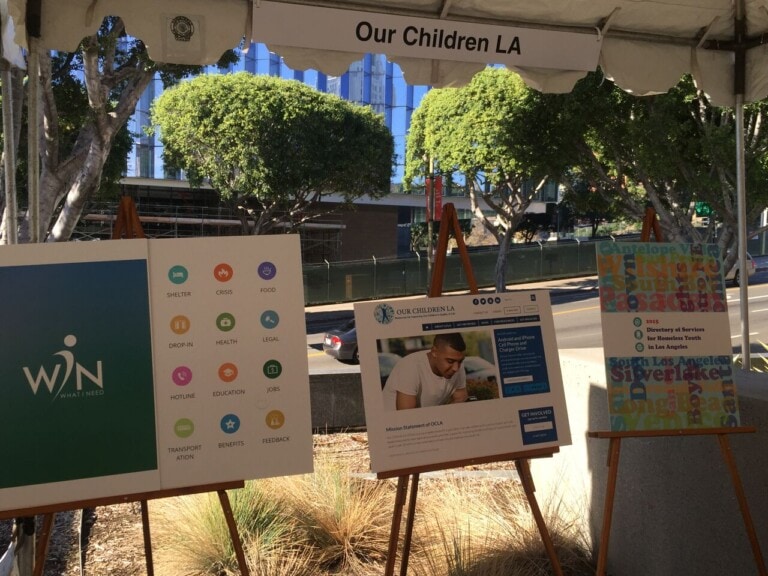 LA Public Legal Service Fair is a WIN for OCLA!
Invited to participate in this year's Los Angeles Public Legal Service Fair, on Saturday October 24th, Our Community LA (OCLA), set up its booth promoting its programs in support of LA's homeless and resource insecure youth.
Hosted by the library as a part of its annual Pro Bono Week series of events, the fair lasted from 9 a.m. to 4 p.m. and provided the general public and service providers with information about free or low-cost legal and social services available locally. The front of the LA Law Library was transformed by the presence of dozens of white tents decorating the entry path. At least 42 legal aid, government, and social service agencies partnered up with the LA Law Library for this year's fair.
As crowds meandered in between tents, chatting with booth members and gathering flyers, OCLA welcomed dozens of visitors and introduced it three programs: 1) "What I Need" (WIN), its free mobile and web app currently available for Android devices at the Googleplay store, 2) OCLA's website, www.ourchildrenla.org and 3) the 2015 Directory of Services for Homeless Youth, available in all branches of the LA City Library system, as well as in the LA Law Library.
The crowd was very interested in WIN, a mobile app designed to effectively connect L.A. homeless or at-risk youth ages 12 to 25 with available resources and centers in the L.A. County area, WIN offers a database of over 1,400 free service providers in the county, a searchable system, results sorted by proximity to the user and type of resource specified. While at the time of the fair, the web and Apple versions of the app had not yet been released, several Android users proceeded to download WIN on their mobiles by the end of the event.
For the general public, the Public Legal Service Fair addressed the present need increase knowledge and accessibility to pro bono organizations and lawyers. The fair offered an open, central space for individuals affected by issues such as lack of legal aid, housing, and/or low income. In addition to OCLA/WIN, featured booths included groups as diverse as public interest law firms, Grandparents for Parents, Mental Health Advocacy Services (MHAS), and People Assisting the Homeless (PATH). Piece by Piece, a nonprofit arts organization, allowed attendants to contribute colored, glass pieces to a mosaic that is to be donated to the library upon completion. In addition, the fair offered numerous workshops, including free 20-minute consultations with Beverly Hills Bar Association Barrister attorneys.