Meet our LA Works WIN Team Leaders!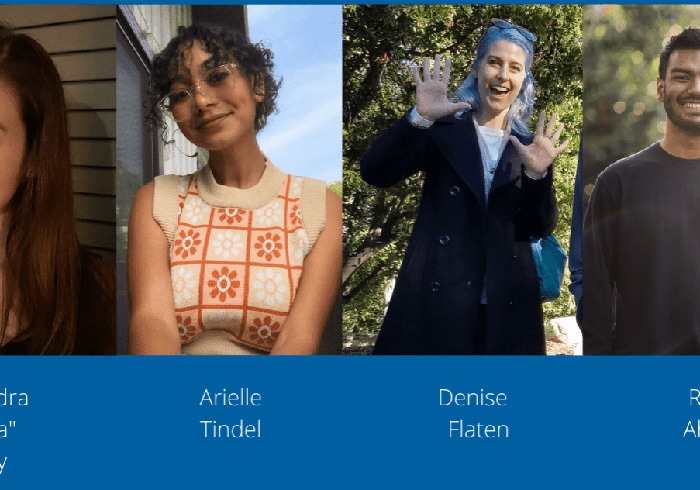 For the past year, OCLA has been a proud member of the LA Works Signature Project Program. L.A. Works, the premier volunteer action center in LA County, has partnered with Our Community LA's ( OCLA) database team to provide volunteers who update the WIN database each week.
Why is this work so important? The WIN app uses OCLA's database of over 2200 free or sliding scale programs to connect users who are struggling or homeless to local supportive services. This database must be regularly updated to be sure our users have accurate information and the LA Works Signature Project Volunteers are an important part of our database support team! OCLA and LA Works welcome new volunteers weekly- you would like to volunteer to help us maintain WIN's Database Project at LA Works, you can sign up here.
OCLA/LA Works WIN Database Project Leads train weekly volunteers to update the 2,200+ programs in the WIN app. Meet our WIN/ L.A. Works leadership team!
Denise Flaten, an experienced volunteer manager, serves as Programs Manager at L.A.Works, and runs the Signature Project. Signature projects are chosen for their creativity, timing, and project goals. She said they also need to center volunteers' growth and enable deeper understanding of the broader social issues. Denise's goal with signature projects is to "make the volunteer's experience so awesome that they're HOOKED! With Signature Projects, we want to make volunteering accessible, meaningful, and fun. My dream is to make the need for volunteering nonexistent because we've activated enough volunteers/advocates to stop the problem before it started!" When asked why they chose OCLA and WIN to be a signature project, she said it was because they believed we were a great fit for their program and because they think that the WIN app is revolutionary.
Refat Ahsan, is a Project Co-Lead who trains weekly volunteers to update the WIN database. Refat and his Co-Lead Sasha ( see below) have been working with OCLA/WIN VOlunteers since May 2021! At each session, Refat gives the volunteers a presentation on homelessness/ resource insecurity to remind the volunteers why this work is so important. Refat was drawn to the OCLA/WIN Project because when he was a scribe at an ER, he observed first hand the inequities of care within the homeless population. Refat likes that the WIN app offers so many ways to support someone who is homeless or suffering severe-resource insecurity. He provided this example: Sometimes people need socks. How do they know where to go for socks? You can't just show up at a hospital and ask. The app gives people the autonomy to seek assistance themselves without tracking and judgment. Refat's favorite part of his work is introducing volunteers to the inequities of homelessness and resources insecurity. He is proud to be responsible for volunteers and to lead this project.
Alexandra "Sasha" Rudoy partners with Refat as a Project Co-Lead each week. A recent UCSD grad with a degree in English Literature, Sasha is studying for the LSAT with the goal of becoming a human rights lawyer. Sasha told us that her favorite experience as a project lead is "getting to meet the incredible people who sign up to volunteer while learning about what inspired them to action." Sasha believes that "getting to talk to people that come from a wide range of ages, jobs, and socioeconomic backgrounds, who are deeply passionate about improving the lives of those around them has really helped me connect to a greater sense of hope for the state of our world, despite however dark the tone of the news can get."
Arianna "Ari" Simonet was a Co-Lead for the OCLA/WIN signature project for over 6 months and recently stepped away due to work conflicts. She shared that she really enjoyed being on the project. She was especially excited about helping maintain WIN data because she sees WIN as an innovative way to offer centralized information access. She noted with WIN you can find what you are looking for easily but that it would take multiple google searches to find the same information. Ari's favorite part of being a project lead is having young volunteers participate since it fuels their passion of helping the community early on. She said that kids usually do not have the opportunity to be exposed to world-issues and through programs like this, it opens their eyes to learn and change the world.
Arielle Tindel is currently a co-project lead and has been working with the OCLA/WIN project for over 6 months She is from Cleveland, OH, and is currently working at a record label/ music publishing company. Arielle moved to LA shortly before COVID hit and was struck by the wealth gap. She said, "it feels like there's a real out-of-sight-out-of-mind mentality in parts of LA when it comes to homeless, and the pandemic only exacerbated that divide." This made her think about how she could help and her role while being mindful of historical systems and barriers. She decided to volunteer with OCLA and said "I love what the WIN app stands for because it allows resource-seeking individuals to make choices for themselves with dignity and respect. The app utilizes mobile technology to empower the community."
We want to give a shout-out to our new Team Lead Mira Barclay who recently joined to co-lead sessions with Arielle. We are so grateful to have her dedication and leadership on this database project!